SiteAudit views can be customized by adding/removing columns, sorting, grouping, etc. as described in Customizing Views. It may be desirable to revert views back to their original default state. This is easy to accomplish by selecting the menu option View > Reset Views. When this option is selected, all views will revert to their default state as they were when the Viewer was installed.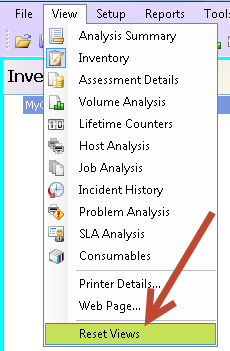 The Defaultviews Folder
In some cases, it may be desired to save the state of some views. SiteAudit saves a copy of the state of the view in the defaultviews folder on the computer where the Viewer is installed. On Vista and later operating systems, this folder is located at
C:\Users\<username>\AppData\Roaming\Netaphor\SiteAudit\defaultviews
In this folder, you will find a view file for each view that has been visited in the SiteAudit Viewer. The example below shows a list of views in this folder. Each .view file contains all of the information about the last state of the view. So if you had applied a filter, sorted a column, added new columns or aggregates, this information is contained in the view.
When a user selects View > Reset Views, this removes all .view files from this folder. Subsequently, when you visit a view in the SiteAudit Viewer, it will appear in its original state. This means that any customization that has been done and any filters that have been created for a view will be permanently gone.
How Do I Save My Filters
SiteAudit keeps track of all of the filters that have been used for a view so that it is easy to switch between filters that have been created. See sample below.

When the Reset Views menu option is selected, all views are reset to their default state and all stored filters will be lost. If you want to save the state of your views and the filters you can rename the defaultviews folder prior to selecting View > Reset Views. When this menu option is selected, a new defaultviews folder will be created and then you can copy one or more of the .view files into this new folder. The screenshot below shows a sample of the renamed folder and the new folder created by SiteAudit.