The following is a very basic example of a Consumable threshold and one that is commonly used in printer environments. This Threshold rule tells SiteAudit to create a new incident if the level of any consumable on any printer is less than 20%.
Example 2
In Example 1, a new incident is created if SiteAudit detects any consumable falling below the 20 percent level for any printer in the environment. It may be the case that some printer manufacturers are not important and one does not want to create incidents for them. It is easy to add additional conditions to specify which printers a Threshold rule applies to. For example, one can apply the rule for devices that are within a particular network or the rule can be applied to particular manufacturer or model printers.
In the following example, a new incident will be created when the consumable level falls below 20 percent for any consumable on a Canon or Dell printer. Essentially, these conditions filter out all other printer manufacturers except Canon and Dell. So, if SiteAudit detects the toner level is below 20 percent on a Lexmark printer (or any other printer manufacturer), no incident will be generated.
Example 3
There are many types of consumable items in a printer, toners, staples, drums, maintenance kits, fusers, transfer belts, etc. It may be desirable to create incidents only for a particular consumable, say toner cartridges. If this is the intent, then new conditions can be added to indicate to SiteAudit that an incident should only be created if the specified consumable falls below a particular level.
In this example, the Conditions indicate that an incident should be created only for particular consumable types. The various consumable types that can be used in your Conditions are shown below.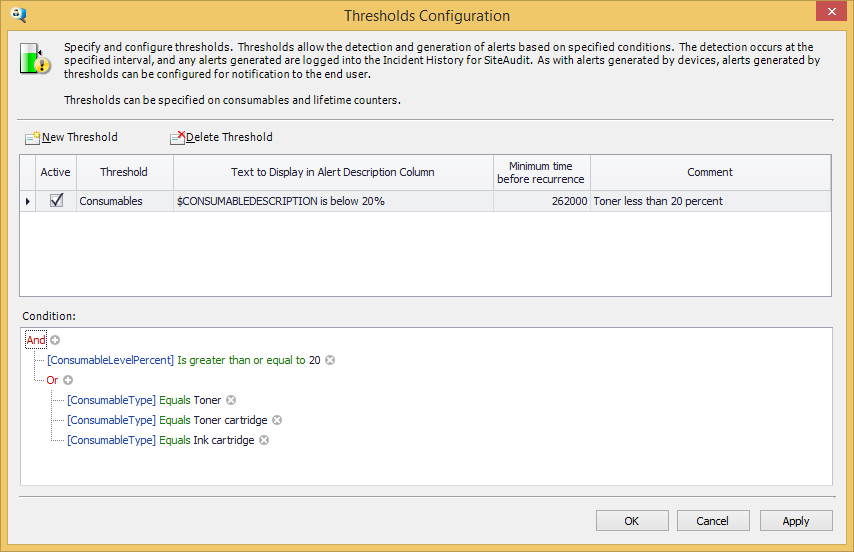 The primary reason for using the Consumable Type in a threshold is because it is language independent. However, if you are in an environment where all printers report information in the same language, then it may be preferred to use the Consumable Description condition instead, as shown below.



Example 4
It may be desirable to create a Consumable Threshold rule that is based on the estimated number of pages remaining on the cartridge. SiteAudit calculates the estimated number of pages remaining in a toner cartridge based on the volume of paper that has been printed and the amount of toner consumed. In the following example, an incident will be created if SiteAudit detects that the number of pages remaining that can be printed with a consumable is below 1000 pages.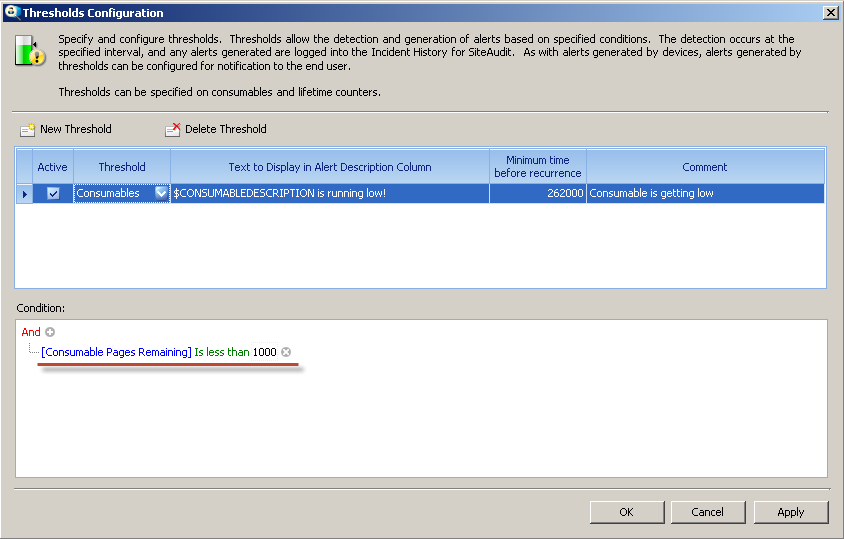 Example 5
The following example illustrates how keywords can be used to display information in the incident description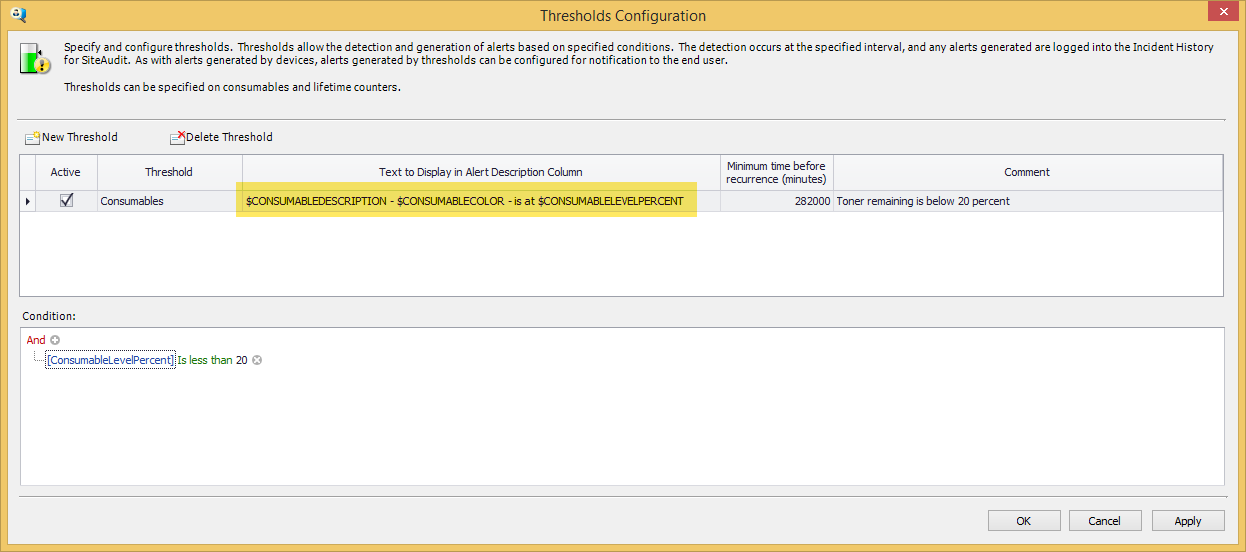 Below are the Descriptions that are displayed in Incident History for the two sample consumables that have a level below 20 percent.
Consumable Example 1


TK-50 - black - is at 14.0%
Consumable Example 2


Yellow Cartridge HP Q7582A - yellow - is at 10.0%
Note that the keywords used in the Consumable threshold rule are replaced by the values from the consumables. Using keywords helps to identify information about the consumable that triggers the notification. The image below shows these descriptions in the threshold incidents.

E