Netaphor SiteAudit offers a suite of powerful features for comprehensive printer management in version 7.7 revolutionizing printer management, delivering control, efficiency, and productivity in one comprehensive solution. Together, these new features provide users with the tools to efficiently manage printers across multiple locations, gain valuable insights, and customize printer data for better decision-making.
In Netaphor SiteAudit (version 7.7), significant new features and enhancements have been introduced, along with important security updates. This includes the Satellite DCA for seamless printer discovery and monitoring in remote offices, Power BI Embedded integration for powerful reporting capabilities, and the Asset Tool for centralized printer configuration and data management. These features will be further detailed in the following sections of this article, providing comprehensive insights into their functionality and benefits. Additionally, the version 7.7 release provides more security enhancements to maximize the safety of your print environment.
The following new features and changes are introduced in version 7.7 products. These features are discussed in more detail in the sections below.
Detailed Feature & Enhancements
Netaphor SiteAudit offers a suite of powerful features for comprehensive printer management in version 7.7 revolutionizing printer management, delivering control, efficiency, and productivity in one comprehensive solution.
The Satellite DCA enables effortless printer discovery and monitoring in remote or disconnected offices, ensuring no printer goes unnoticed.
With Power BI Embedded integration, partners can provide internal and external users with powerful reporting and data visualization capabilities without requiring separate licenses.
The Asset Tool enhances configuration and data management, allowing central control of printer information, custom field creation, and accurate reporting.
Together, these features empower users to efficiently manage printers across multiple locations, gain valuable insights, and customize printer data for better decision-making.
Satellite DCAs
Satellite DCAs revolutionize printer management by providing a seamless solution for discovering and monitoring printers in remote or disconnected offices. With SiteAudit's Satellite DCAs, you can effortlessly collect data from printers across multiple locations, including remote and home offices, even if they are not connected to your corporate network. This comprehensive and centralized approach allows for unprecedented control, efficiency, and security in managing your printing infrastructure. By extending SiteAudit's capabilities to these decentralized environments, Satellite DCAs empower organizations to streamline operations, optimize resources, and enhance productivity. With real-time insights and centralized management, SiteAudit's Satellite DCAs offer a powerful solution for achieving a seamless and efficient printer management experience.
For more information: Empower Your Printer Management with Satellite DCAs in Netaphor SiteAudit Hosted
Power BI Embedded
In the latest update of Netaphor SiteAudit's Hosted Servers (version 7.7), an exciting addition has been made with the integration of Power BI Embedded. This integration empowers partners hosting their own server to offer Power BI reports to internal and external users, eliminating the need for them to purchase separate Power BI Pro licenses. Users granted access to Power BI reports can conveniently view them within the familiar management server window, providing enhanced data visualization and analysis capabilities for more informed decision-making. This integration further enriches the reporting functionality of SiteAudit's Hosted Servers, delivering a seamless and comprehensive solution for generating and sharing insightful reports.
For more information: Unleash the Power of Data Visualization with Power BI Embedded
Asset Tool
Netaphor SiteAudit has taken the standalone Asset Tool and fully integrated into the OnSite and Hosted Viewer for seamless operation. Use the Asset Tool to configure information for all of your customers from a central location. Import the organizations department hierarchy as well as and discovery data. By associating discovery data with departments, SiteAudit automatically associates printers discovered within those networks or ranges to the appropriate departments allowing users to easily perform analysis and reporting of printer information by department, subdepartment or the entire organization.
Use the Asset Tool to create custom fields for information that cannot be obtained from your printers. SiteAudit allows users to create up to 15 custom fields, 6 text fields, 6 number fields, and 3 date field. These fields can contain unique information for each printer in your environment and the Asset Tool allows one to easily create and update these fields as well as populate the information for all printers. For example, suppose you want to have a contract associated with your devices. Custom fields can be used to identify the contract name and expiration date.
The Asset Tool's capabilities extend beyond configuration and custom fields. It allows you to update asset information directly within the SiteAudit database. This includes essential details like printer age, type, product number, model, and more. SiteAudit never writes to your printers, but we understand the value of keeping your information accurate for better reporting. For instance, you easily change asset information within the SiteAudit database. This saves time and effort by avoiding the need to manually change data on individual devices. It also eliminates the issue that would occur if someone changed this information since you may not have direct control of the printers.
For more information: Streamline Configuration and Data Management with Netaphor SiteAudit Asset Tool
7.7 Security Enhancements
SiteAudit version 7.7 introduces significant security enhancements to ensure the safety of your print environment. With improved security reporting capabilities, you can stay ahead of vulnerabilities and protect your systems effectively. These enhancements address the ever-evolving landscape of new vulnerabilities, technologies, and equipment, reflecting our commitment to keeping your environment secure. Trust in SiteAudit 7.7 to provide you with the robust security features you need for peace of mind and proactive security management.
Security Port Scans
Netaphor SiteAudit introduces additional default ports to its vulnerability scanning capabilities, covering VPN and nonstandard port usage. To learn more about the ports scanned by SiteAudit and how to customize them, please refer to the Security Ports Scanned by SiteAudit article. SiteAudit provides notifications when scanned ports are opened or closed, empowering users to generate reports and actively mitigate vulnerabilities by reducing the open port footprint for each printer.
Printer Certificate Analysis
In SiteAudit 7.7, we have enhanced the security scanning capabilities to include the detection of printer certificates. This allows SiteAudit to identify self-signed certificates and record their expiration dates. It is important to be aware of self-signed certificates as they can raise security concerns, and we recommend using third-party signed certificates for better security. Additionally, expired certificates pose a risk, and SiteAudit can notify you when a printer certificate has expired or is about to expire. You can leverage this information to take proactive measures and generate reports to identify printers with certificate issues. With these features, SiteAudit helps you maintain a secure print environment and mitigate potential security risks associated with printer certificates.
Secure Remote Diagnostics
SiteAudit's Virtual Technician empowers users to securely engage with any DCA (Central, Satellite, Remote) for comprehensive application evaluation and management. It enables users to assess application performance, manage resource utilization, customize DCA settings, and diagnose printer issues remotely. Utilizing secure HTTPS and TLS protocols, Virtual Technician ensures a secure connection for interacting with DCAs and accessing remote printer webpages for configuration and diagnostics. With Virtual Technician, users can confidently optimize their printing infrastructure while maintaining a high level of security and control.
Other Changes
We are pleased to introduce several changes that are designed to enhance your experience and provide even greater functionality. Here are the key changes:
Update to Lifetime Counters: We have made improvements to the Lifetime Counters feature for various Kyocera Mita models that do not support A3 paper. This update ensures accurate tracking and reporting of printer usage, even for models with specific paper size limitations.

Default Device Type for Zebra and Label Printers: To streamline the setup process, we have set a default Device Type for Zebra printers and other label printers. This simplifies the configuration of these devices, saving you time and effort.

Managed Status Configuration for Hosted Customers: As a Hosted customer, you now have the flexibility to configure the default Managed Status state for newly discovered devices. This allows you to align SiteAudit with your specific workflow and preferences, ensuring seamless integration with your existing processes.
These changes in SiteAudit version 7.7 reflect our commitment to continuously improve our solutions and meet the evolving needs of our customers. We strive to provide you with a comprehensive and tailored experience that empowers you to manage your printer infrastructure with ease and efficiency.
Upgrading SiteAudit to Version 7.7
Hosted Users
For SiteAudit Hosted users, the option to upgrade the Control Panel is available to take advantage of the latest reporting features. To perform the upgrade seamlessly, follow the step-by-step process outlined below:
Close your current SiteAudit Control Panel.
Sign in to your management server.
Locate and select the Control Panel link.
Within the Control Panel page, choose the desired language and format for the installer. By default, it is set to English - 64 bit.
Click on the Download link to initiate the download process.
Once the download is complete, navigate to the downloaded file, "SiteAuditControlPanel.msi."
Double-click on the "SiteAuditControlPanel.msi" file to initiate the upgrade process.
By following these steps, SiteAudit Hosted users can seamlessly upgrade their Control Panel, enabling them to leverage the latest reporting features available. Stay tuned as we explore the enhanced capabilities and benefits that the upgraded Control Panel brings to your SiteAudit experience.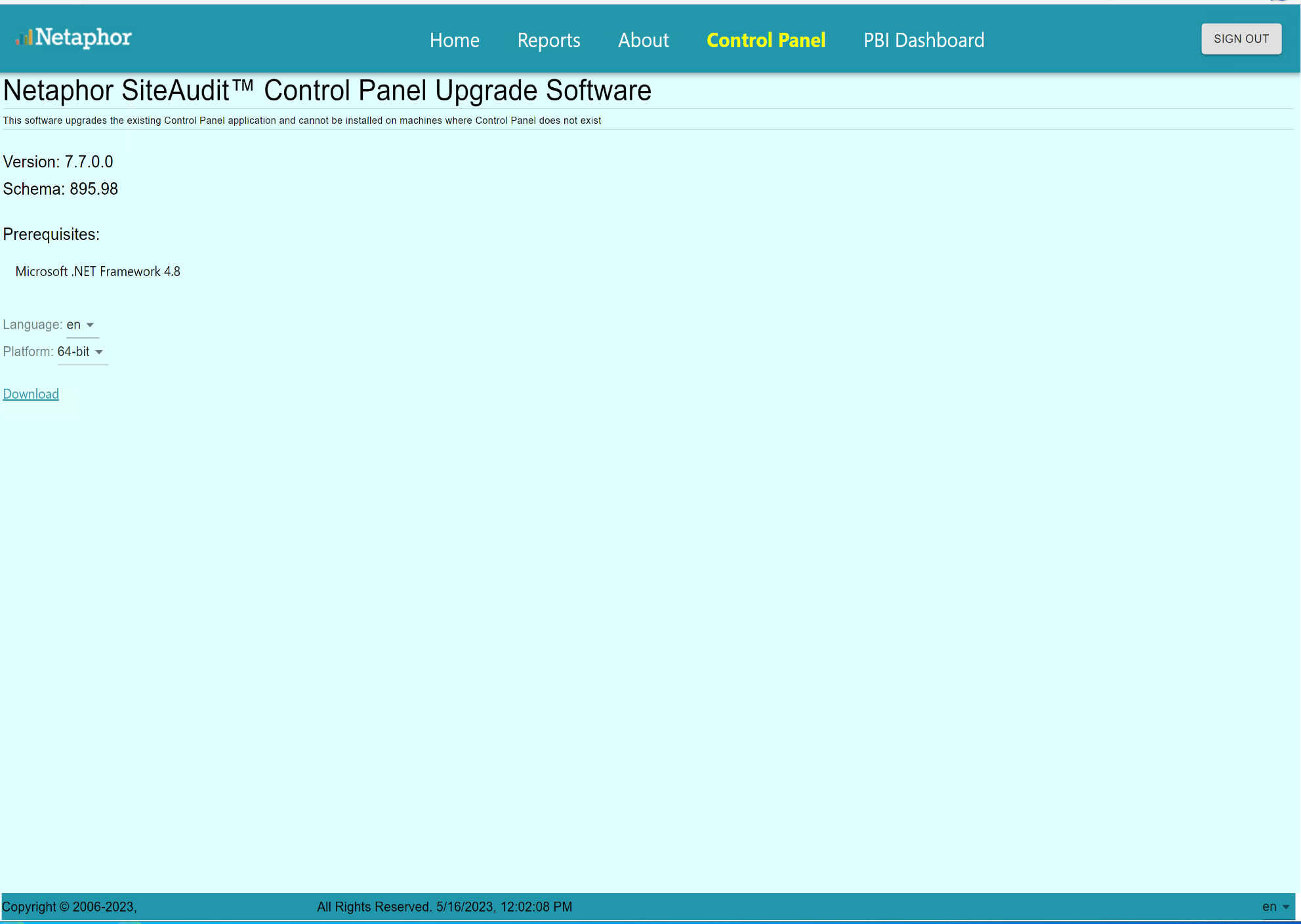 OnSite Users
To obtain the latest version of SiteAudit OnSite, users can visit the official Netaphor website and download the software. It is essential to thoroughly examine the platform and software requirements to ensure compatibility with your system before proceeding with the software upgrade. Taking this precautionary step will help ensure a smooth and successful upgrade process without any compatibility issues.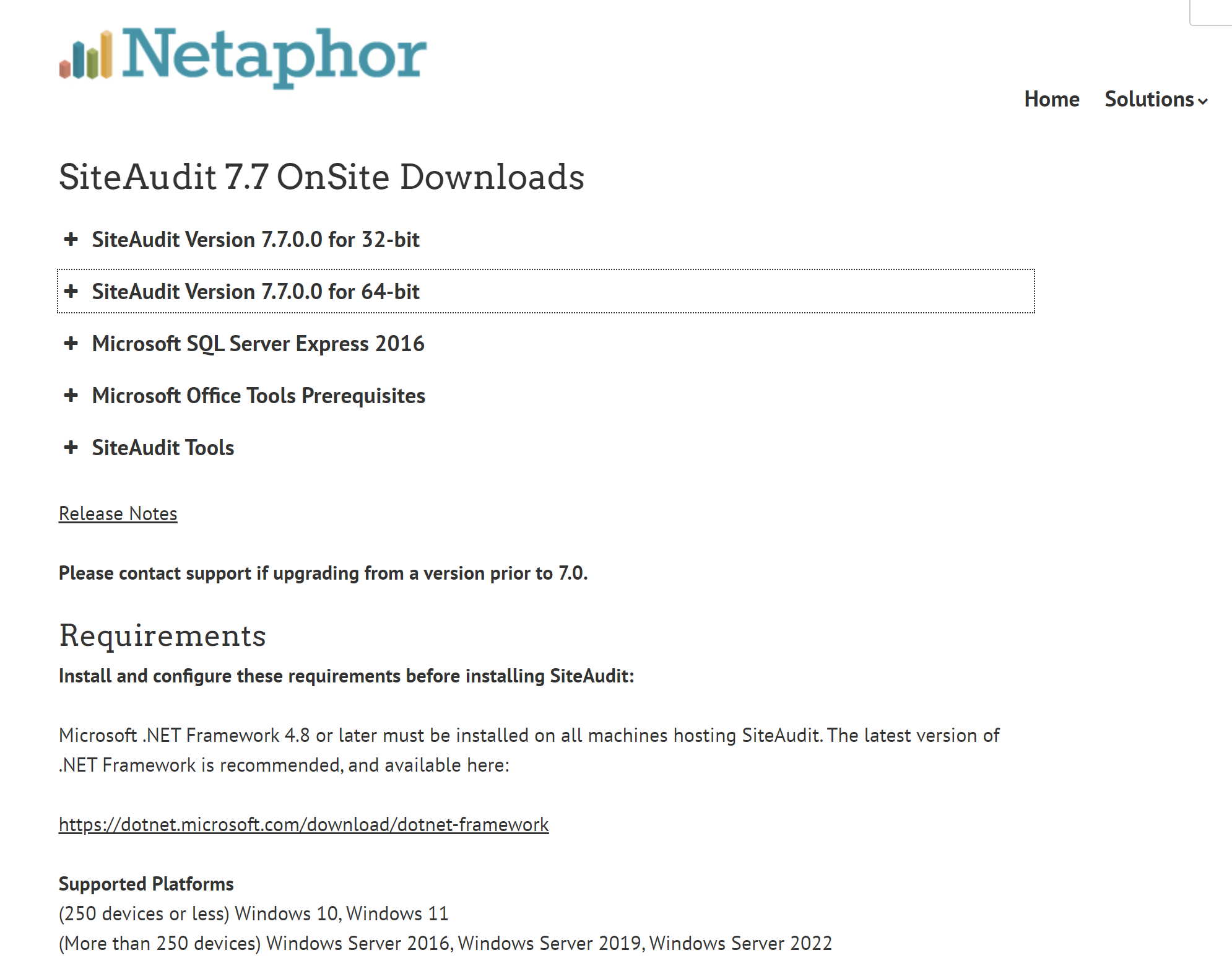 To successfully upgrade your Netaphor SiteAudit to version 7.7, please follow the steps outlined below:
Stop the monitoring service and create a backup of the database by generating a .bak file.
Close the SiteAudit Viewer application to ensure a smooth upgrade process.
Visit the official Netaphor website at https://netaphor.com/download and download version 7.7 of SiteAudit.
Install the database schema by navigating to Database Configuration > Maintenance > Install in the SiteAudit application.
Please note that the upgrade process duration may vary depending on factors such as the quantity and type of inventory, as well as the length of data collection. It can take anywhere from a few minutes to several hours.
Avoid clicking on the application or attempting to force the upgrade process to terminate. Doing so may result in a "Not Responding" message. Instead, patiently wait for the upgrade to complete. A confirmation message will appear when the upgrade has finished.
Close any remaining open dialogs related to the upgrade.
Finally, start the monitoring service to resume the normal operation of Netaphor SiteAudit.
By following these steps, you can smoothly upgrade your Netaphor SiteAudit to version 7.7, ensuring you have access to the latest features and enhancements.
Upgrading extensive databases may necessitate a significant time investment, often spanning several hours. The duration of the upgrade process is contingent upon various factors, including the quantity and diversity of devices in the inventory, the length of monitoring, and the specific changes introduced in the new software version. It is of utmost importance to refrain from interrupting the upgrade once it has commenced, as doing so could result in undesired consequences. Upon completion of the upgrade, a notification will indicate the completion of installation.
Following an upgrade, it is normal for the Viewer to require a few minutes to open for the first time as final updates are being applied. It is vital to exercise patience during this period and refrain from forcibly closing the application, allowing the necessary updates to be applied seamlessly.